You have any VHS, VHS-C, Betamax or 8mm videos in the attic or thats stashed away in the closet and you don't know what to do with them. You kept them all these years because there treasures of your family.  You want them transferred to Blu-Ray or DVD or Hard Drive.
SPEAKEASY ARCHIVES is the place to get those old tapes into the modern age of a digital format of your choice. Get those family memories out and send them to get transferred. SPEAKEASY ARCHIVES have all the equipment to make this happen for you. We will handle your family Memories with the utmost respect. Just as if it were our own family history. 
Our rates are affordable from $8.50 per hour for basic transfers and up. Most transfers will be basic unless otherwise noted. The cost includes blank DVD's and BLU-RAY DVD's.
Get in contact with us and we will help in any way to get all of your treasures into the modern age.
All Video tapes will deteriorate over the years to the point that the Video and Audio is all gone. Don't lose your home video memories! All of our Video transfer equipment is well maintained and up to factory specs to get the best transfers available.
For any questions contact us today.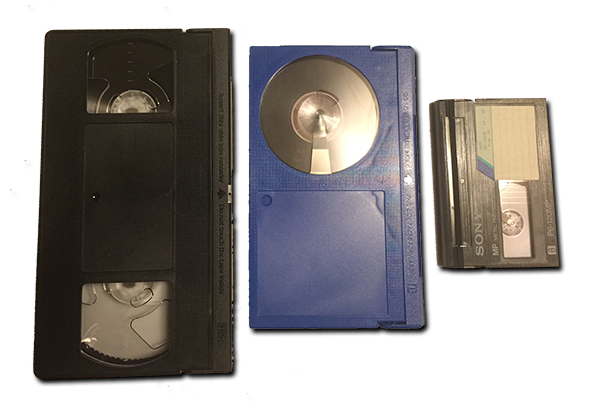 Left to Right: VHS, BETAMAX, 8mm